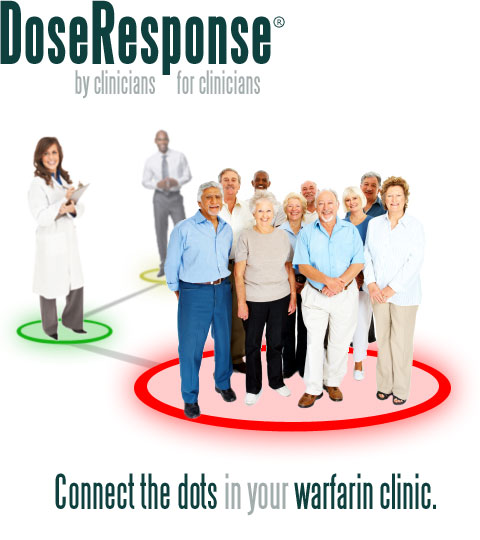 Trying to connect all the dots in your anticoagulation program? Outstanding patient care, clinical effectiveness, and business efficiency.
DoseResponse is a flexible, secure, and user-friendly software product for outpatient anticoagulation clinics that:
Automates the capture of patient management information, reducing time in manual tracking and creating reports
Efficiently documents your patient encounters to support reimbursement and to verify your adherence to accepted standards of care
Incorporates national guidelines for dosing and monitoring to provide a standardized, consistent approach to therapy
Improves patient communication and compliance by printing easy-to-read, graphical dosage instructions for patients
Provides ongoing quality assurance (including therapeutic time in range) and administrative reports to facilitate efforts to track and improve patient care
Provides a mechanism to document, track and run a report for billing the G0250, physician review, interpretation and patient management of home INR testing
Interfaces with a wide variety of electronic medical record systems (EMRs) such as Epic and Cerner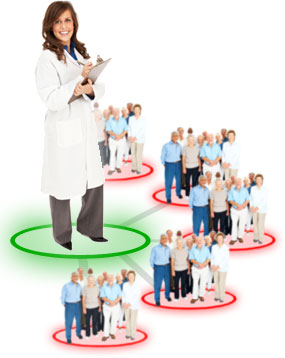 DoseResponse's unique application allows you to support a single clinic/office setting in one location, or configure it to support multiple patient care sites with clinician management from a centralized, remote site.
The centralized function allows you to:
Manage medical personnel at multiple clinic or office locations from one or more remote locations
Provide a highly efficient, cost-effective anticoagulation service while minimizing the professional time of the clinicians
Easily expand services to outlying locations to improve patient access
Ensure a consistent approach to warfarin management across multiple sites and clinicians
We use this configuration of DoseResponse to manage the dosing of 1,200 patients in 5 locations with one clinician, and maintain a TTR over 80%.
DoseResponse
®

Clinic

As your clinic grows, the embedded DoseResponse Clinic feature unique to DoseResponse allows you to easily extend the reach and clinical expertise of your clinics and clinicians without the need for extensive staff additions and cost increases.

DoseResponse Clinic allows your clinicians to work from a centralized location, while patients can present at a location convenient to them and receive the same high quality, consistent care they receive at your main site.

DoseResponse Clinic:
Allows you to manage the warfarin therapy of your patients in a manner that adheres to a specific set of protocols approved by your office or organization
Provides health care organizations and referring physicians a safe and accessible means of managing warfarin patients
Reduces the cost of staffing your anticoagulation clinics with clinicians
Creates a high degree of patient, physician and organizational satisfaction
DoseResponse Clinic helps you manage warfarin patients in multiple hospital clinic and physician office locations, each using a nurse or medical assistant at the specific patient care site.
Because of the software application, the amount of time required by the centralized clinician is minimized, with no loss of clinical effectiveness. High time in therapeutic range, high degrees of organization, physician and patient satisfaction at a fraction of the cost of current anticoagulation services.
Interested?
For more information contact us by phone at (412) 741-7117, or by email at rstierer@doseresponse.com. We look forward to hearing from you!